For the Autumn term 2020/2021 our wider curriculum will include before school, lunchtime and after school activities on site where it can and in line with Covid regulations, keeping our students and staff safe and in their year bubbles.
We will be building activities up over the half term with the aim to engage students back with school life and their peers, as well as supporting working parents/carers.
Students should continue to use Teams to access their Boteler Wider Curriculum after school.
What is the Duke of Edinburgh? Follow this link to find out more ☛ DofE-Bronze-What-is-the-DofE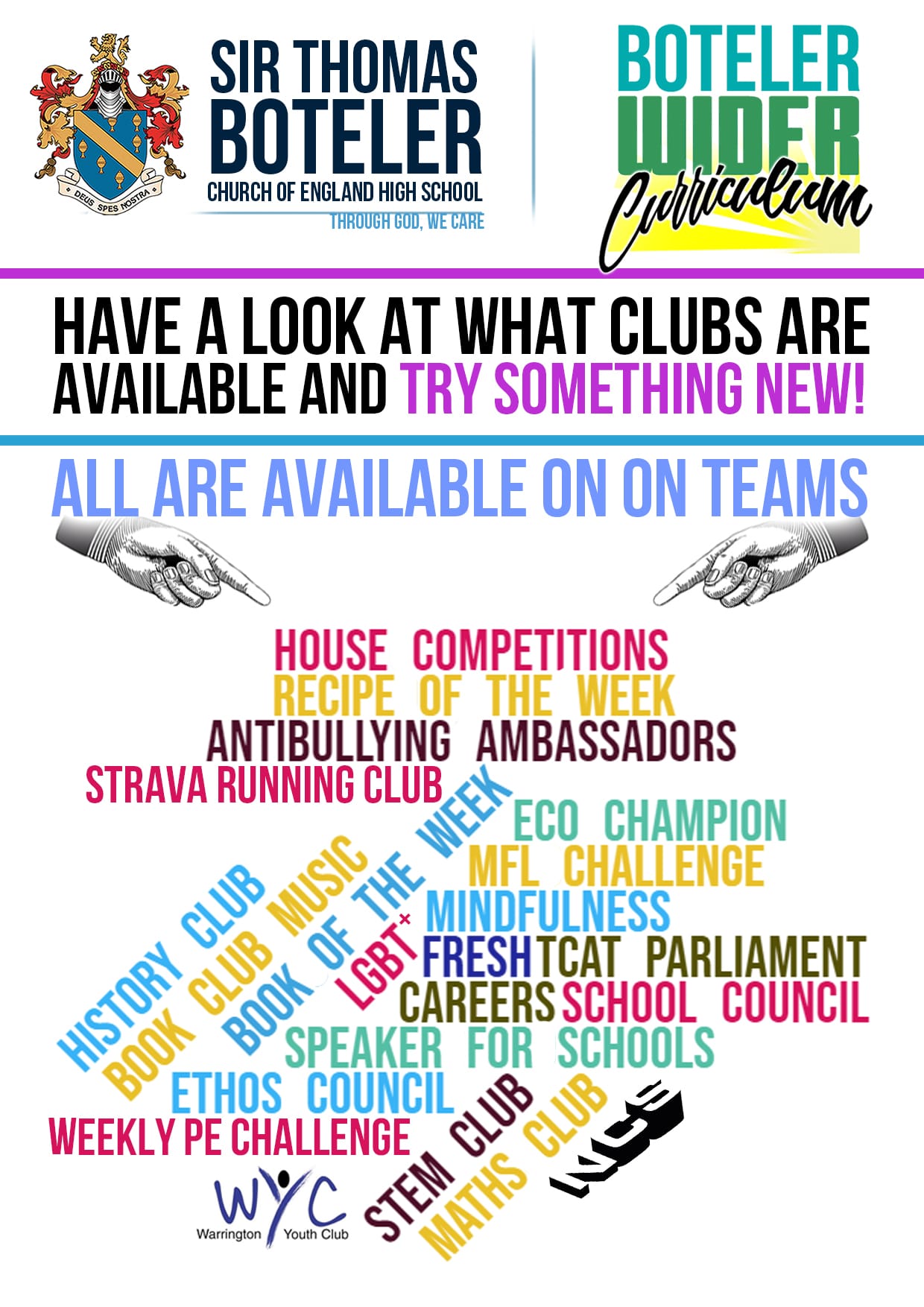 At Sir Thomas Boteler Church of England High School we really value the wider curriculum. We believe in offering our students a deep, broad and balanced 'whole' curriculum that will allow them to have a wide range of academic, creative, practical, sporting and character-building experiences.
To ensure that each and every one of our students gets a complete educational experience, the wider curriculum is a substantial and vital part of the whole education of our students. The wider curriculum involves activities and learning experiences that take place beyond the formal curriculum of subjects that are taught, and in many cases take place outside the classroom – sometimes beyond the school. We see this area of the whole curriculum as being an essential part of every student's learning entitlement, offering all our young people the opportunity to learn about life in its broadest context: its challenges and opportunities, and how to respond to its successes and occasional disappointments. Our emphasis on the wider curriculum indicates the importance that we place on extra-curricular and personal development activities within the ethos of our school, and the importance of achieving the right balance between academic focus and the development of wider knowledge, skills and qualities. We expect each and every one of our students to take an active role and to develop their skills, knowledge and qualities during their time with us.