Please contact our SENDCO Amanda Harrison with any queries on aharrison@boteler.org.uk
Please click here for our Designated Provision information.
Click here for the SEND Policy and other school policies.
Click here for the Local Offer document.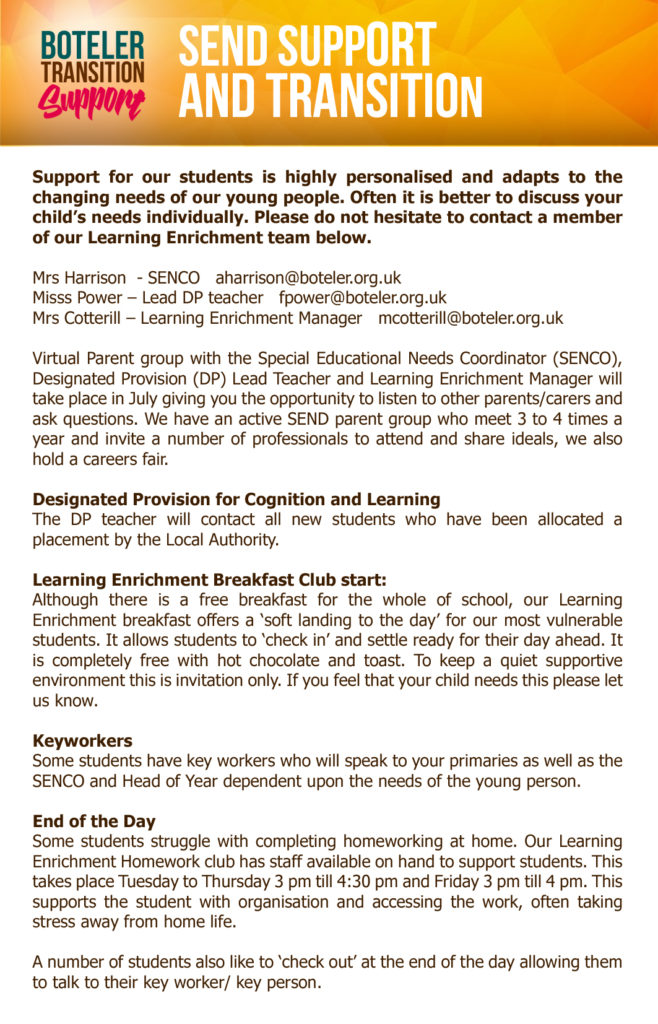 SEND – Learning Enrichment
Sir Thomas Boteler High School has a thriving SEND department which strives to embrace every individual student's differences, building on strengths through a multitudes of learning options.
A range of staff support students learning and are specifically trained. Two specialist teachers support small groups and individuals with literacy difficulties, identifying and unpicking areas of development to be addressed building on the students preferred learning styles. Specialist English and Maths teachers complement this very specialist programme working closely with identified individual and small groups delivering targeted intervention alongside higher level teaching assistants.
Teaching assistants work with a number of specialist to deliver a variety of student centred personalised speech and language programmes both within small groups and individuals. These programmes are regularly reviewed and monitored with the Speech and Language specialist who liaise with school and parents.
Social skills and nurture groups allow students to develop vital independent life skills to support and guide them through some difficult situations building confidence and security. These sessions are by our highly trained Health and Wellbeing Worker who oversees and works with our most vulnerable students.
We are massively proud of our parental engagement and nurturing environment which support and expects students to make progress. We have a number of opportunities for parents to come into school, meet other parents and invited specialist. We host a support group for parent who have children with social communication difficulties which you are more than welcome to attend.
Designated Provision
Sir Thomas Boteler Church of England High School has a Local Authority 12 place KS3 and KS4 Designated Provision for children with Cognition and Learning Needs. All of the students within the Designated Provision have an Education and Health Care Plan.
The students are taught in a calm, nurturing, and welcoming self-contained environment. The students are incredibly proud of their work space, and would encourage you to visit us.
Within the Designated Provision the students follow a heavily tailored curriculum, personalised to support their specific needs. Key Stage 4 students, where possible follow a GCSE/Btech route (again this is based upon the individual capabilities of each student), whilst also working towards Entry Level Certificates. The group as a cohort, are regularly presented with AQA certificates which celebrate both academic and life skills. We also follow the ASDAN program whereby a range of invaluable life skills are worked upon, including: Teamwork, Independent Learning, Coping with Problems, and Using Maths, English and IT. We aim to challenge the children academically, and where possible encouraging students access mainstream lessons. Our Year 11 students have all gone on to college courses, studying a variety of courses from plumbing, sport and cooking. 2018 results were excellent which meant our students had a choice of courses in a choice of colleges, including: Reaseheath, Pettypool and Warrington Vale Royal.
There is a specific focus within the Designated Provision on speech and language development, social skills development and independence.
We have a very successful working relationship with Warrington Wolves. The Ability Team join the Designated Provision each week to work on team building skills, including: Effective Communication and Problem Solving.
Horticulture is used an alternative therapy for Designated Provision students. Sir Thomas Boteler Church of England High School were recently awarded a £10,000 grant to improve the gardens. The students of the Designated Provision are so proud to be a part of the transformation.
Click here to read more about our Designated Provision.