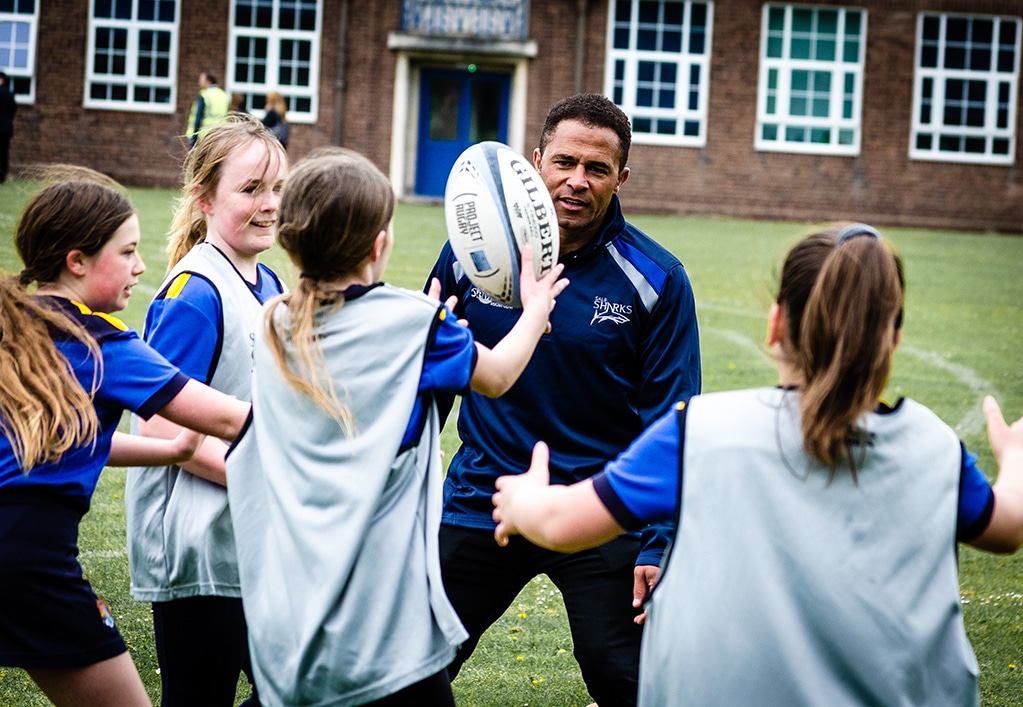 Sale Sharks at Boteler!
A double helping of England rugby royalty was on show recently as two of the sport's most decorated stars helped launch a new Sharks Community Trust programme designed to encourage girls to get into rugby – right here in Warrington, at Sir Thomas Boteler Church of England High School.
Sharks and England legend Jason Robinson marked his return to the club as a non-exec director by joining England and Sale women's star – and fellow World Cup winner – Katy Daley-McLean at the launch of the Girls Tackle Rugby programme. The programme will run across ten rugby clubs and 40 schools across the north west and coaches are aiming to work with around 3,000 girls from age 11 upwards.
Some of Boteler's Year 7 girls were treated to a masterclass from two of the sport's finest. Jason, who appeared more than 50 times for his country and scored a vital try in England's 2003 World Cup win, passed on his knowledge and showed off his famous quick feet to the girls. While Katy, who is England's third most capped women's player with 116 international appearances, demonstrated exactly why this programme matters as she told the girls about her rise to the top.
Katy, who is currently a player-coach at Sharks' women's team, said:
"This kind of programme is absolutely essential if we're going to grow the women's game, both in terms of getting girls interested in the sport, but also providing a pathway to the top level of the game. I would never have been able to achieve what I have done without role models and without someone pushing me to get involved. If you can see it, you can be it. As a club we're committed to showing that rugby is truly a sport for everyone. We have so many role models across the men's and women's teams and we're passionate about telling people that rugby really is a sport for everyone. It was amazing to see how the much the girls loved playing rugby. There was some real talent on show too."
Jason said:
"Girls Tackle Rugby is just one example of the fantastic work this club does in the community through the Sharks Community Trust. I know what this game has done for me and I know the impact rugby can have on lives. I've gained a lot of experience in the 14 years since I finished playing and now I'm really excited to be back at a club where I can use that to make a difference. I can't wait to get out there to show people that this club, and this game, truly is for everyone."