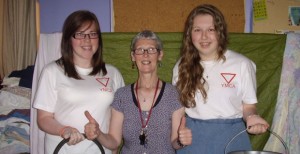 On Saturday 15th June, three year 10 school girls from Sir Thomas Boteler High School, Alicia Bennett, Hannah Jones and Holly Mannering spent the whole day 'bag packing' at Iceland to raise much needed funding for the YMCA charity in Warrington. This charity is there to help and support the homeless of Warrington and the vulnerable in our society, any age and gender are welcome.
The girls were bag packing for 7 hours with only a short break for lunch, they worked tirelessly. They raised £240.55 and as you can see in the photo, Alicia Bennett (right) and Hannah Jones (left) handing the money to Sue Blythe (centre) who is the manager at the YMCA.
Sue Blythe thanked the girls for giving up their valuable time to help others. A big thank you to all of the customers who donated.