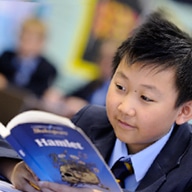 Homework and independent study is crucial for your child to achieve his/her full potential. The following guidance is to help you on what homework should be set and when and how long (approximately) the homework task should take. Obviously we follow a two week timetable and the subject split may not lend itself to following this to the letter, due to the split of the classes. However the timings should equal out over the fortnight.
We encourage teachers to set the homework at the start of the lesson to ensure that the students write it down. Students need to take responsibility for this and ensure they have all the correct information in order for them to complete the homework that has been set.
It is also crucial that students complete their homework to a high standard and hand it in on time , so it can be marked and given back. This is where parents and carers can help and support us. We also appreciate you supporting us with the sanctions that are in place for non-completion of homework. We need to send the right message out to all our students that we value homework. If together we can get this right it will have a massive impact on grades and outcomes for your child.
We want your son/daughter to succeed at the highest level and achieve the best results possible. High standards of independent work are a key feature of us being able to ensure that this happens.
Please ensure your son/daughter has a planner, equipment and a bag every day.
Key Stage 3 Guidance. This is the maximum that would be set, per subject per week which is above the National Average.
| | | |
| --- | --- | --- |
| Subject | Y7 (minutes) | Y8 (minutes) |
| English | 30 | 2×30 |
| Maths | 30 | 2×30 |
| Science | 30 | 2×30 |
| RE | 30 | 2×30 |
| Geography | 30 | 30 |
| History | 30 | 30 |
| MFL | 30 | 30 |
| Art | 30 | 30 |
| ICT/Computing | 30 | 30 |
| Technology | 30 | 30 |
| Drama/Music/PE | Practical subject – research based projects where appropriate. | Practical subject- research based projects where appropriate. |
| | | |
Key Stage 4 Guidelines. This is the maximum that would be set, per subject, per week, which is  above the National Average
| | | | |
| --- | --- | --- | --- |
| Subject | Y9 (minutes) | Y10 (minutes) | Y11 (minutes) |
| English | 2×45 | 2×60 | 2×60 |
| Maths | 2×45 | 2×60 | 2×60 |
| Science | 2×45 | 2×60 | 2×60 |
| Option Subjects | 2×45 | 2×60 | 2×60 |
PSHE homework will be set regularly according to the schemes for learning at KS3 and KS4
National Average for Homework
Y7 and Y8                           45-90 minutes a day
Y9                                         60-120 minutes a day
Y10 and 11                         90-150 minutes a day