We are working closely with The Cheshire and Warrington Pledge Partnership to ensure that our students receive support from employers, universities and training providers and we are delighted to announce that STB COE High School have teamed up with Cavendish Nuclear. Our Enterprise Advisor is Steven Walsh, Head of Project Management Assurance and Governance at Cavendish Nuclear. In working together we aim to provide our students with knowledge and skills for future training and employment.

The Enterprise Advisor network puts employers at the heart of inspiring, informing and communicating with the next generation of employees in Cheshire and Warrington. The Pledge currently have a team of 43 Enterprise Advisors across the region, all working with senior leadership teams to develop career programmes and experiences that continue to motivate and engage our young people.
Click here for the letter regarding the first 'Warrington Virtual Careers & Education Fair – Your Future, Your Choice, Move on' organised by The Pledge Partnership for Cheshire & Warrington and Warrington Borough Council on Tuesday 6th October 4pm – 7pm.
An introduction to our Enterprise Advisor; Steve Walsh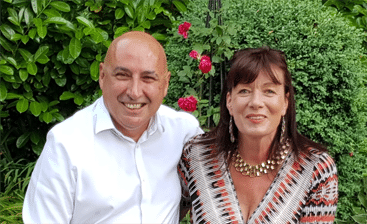 I have lived in Warrington for over 30 years, in Latchford, then Thelwall and now Locking Stumps with my wife Carol. We have 5 grown up children and 8 grandchildren. I like going to watch my favourite football team with my oldest son and Lancashire Cricket club with my youngest daughter. I am a keen cyclist and enjoy taking our dogs for walks. On the education front I went to Halton College of further education and then Liverpool Polytechnic (Now John Moores University) to do Civil Engineering.
I have had a 38 year plus career working in local government, the public and private sector. I started off as a civil engineer working for Warrington Borough Council, in the drainage department, designing the sewerage systems that take sewage waste water away to be treated. I then worked for an international geotechnical consultancy. During the 90s I worked for Untied Utilities in a variety of engineering and project management roles. In 2000 I worked for the Environment Agency briefly as a programme manager, in their air emissions team. I then spent around 12 years working for United Utilities again in a variety of senior engineering management roles. Over the last 6 years I have worked in a number of other industries, including the water, energy, waste management and nuclear. Currently I work for Cavendish Nuclear limited, based in Birchwood, as the Head of Project Management Assurance and Governance. Cavendish is a 5000 people strong UK based organisation that has a breadth expertise which means we have unrivalled experience and specialist knowledge across all aspects of the nuclear energy life cycle, from design and build, through operations and maintenance, to decommissioning, waste management and remediation. I have a real passion to share my career experiences so I am an active STEM ambassador for Cavendish Nuclear. I look forward to working with STB CoE high school.