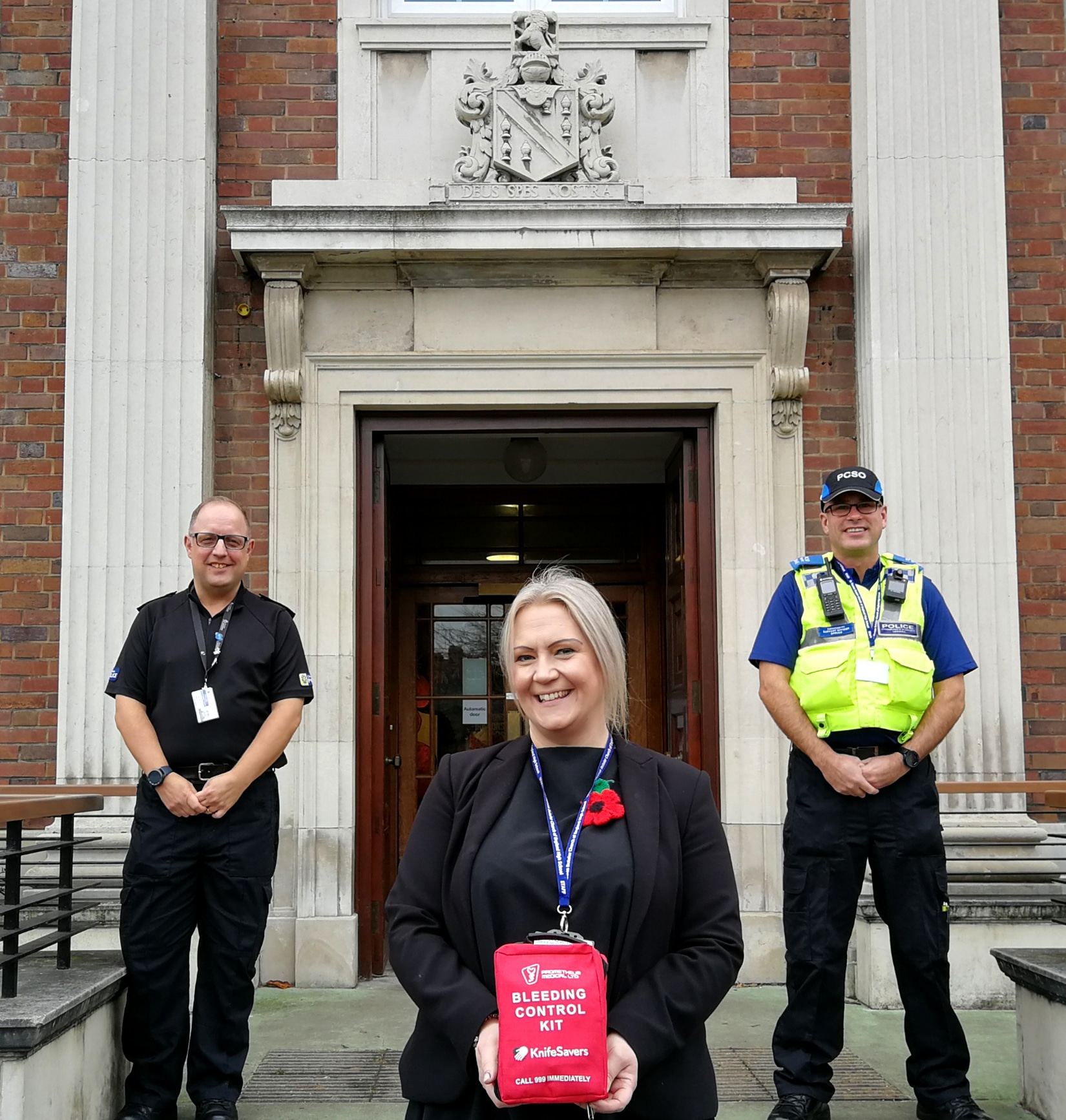 Keen to serve our community
Sir Thomas Boteler Church Of England High School are proud to be the first high school in Warrington that is part of a new life-saving initiative to further improve the fight against knife crime.
It was national knife crime week last week and the school had a wide range of programmes in place to educate all the young people on the dangers of knife crime. PCSO Tony Spruce come in and work with some of the Year 10 students as a part of this project.
The school is now part of a Cheshire-wide initiative which enables members of the public to prevent knife crime victims from bleeding to death. This is through the use of a Bleeding Control Kit. The Bleeding Control Kits will be rolled out to community venues across the county. The life-saving kits are easy to use but training will be provided to those willing to take responsibility of dealing with a knife wound until paramedics arrive.
Ambulance service call handlers and a KnifeSavers app will be able to direct people to their nearest Bleeding Control Kit within the community. Cheshire Constabulary has joined forces with not-for-profit organisation KnifeSavers as part of its multi-faceted approach to tackling knife crime. Chief Inspector Sarah Heath, the knife crime lead for Cheshire Constabulary, said: "We have a structured prepare, protect, pursue and prevent approach to tackling knife crime that involves various partner agencies and the community as a whole – and it is working.
"We have one of the lowest rates of knife crime in England and Cheshire is one of the few counties in England and Wales that has seen a reduction in the number of knife related offences committed in recent times.
"At Cheshire Constabulary we work alongside local authorities, education providers, health authorities, third sector organisations, youth representatives and community groups to educate young people of the dangers and futility of carrying weapons, steer them away from criminality and offer them attractive alternative ways to spend their time. A person can bleed to death in just five minutes if they are stabbed in the wrong place. It is essential to stem the loss of blood as soon as possible. Bleeding Control Kits enable members of the public to do this, with all types of wounds, before paramedics arrive. That can be the difference between life and death. As such, as part of our fight against knife crime, we are funding the rolling out of the kits to community venues across Cheshire, as well as training to give people the confidence to use them."
Keen to serve its community, Sir Thomas Boteler Church of England High School is the first school in Warrington to receive one of these bleeding control kits. People know where the school is and if there was an incident in the local community there would be clear accessibility to the lifesaving kit. Headteacher Beverley Scott –Herron said "it is crucial that we educate young people about knife crime and that is why we work so closely with the police and other relevant agencies. This however is about us being able to save a life if needed within our local community, and by having the correct equipment and training to do so."
Photo: Headteacher Beverley Scott-Herron (centre) with PC Ian Hampson (left) and PCSO Tony Spruce (right)