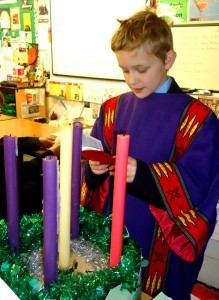 On the 4th December, Sir Thomas Boteler Church of England High School's year seven pupils were presented with their New Testaments by the Gideon Organisation.
Jessica Bate was asked to open up a present from Mr Chapman, the represenatative for the Gideon Society. She thought it was an empty box and certainly not as exciting as the coloured umbrella someone else got to un-wrap. When she did open her present it held a paper scroll with a ribbon around it.
Jessica handed the scroll to Mr Chapman who shared this reflection with the assembled pupils.
He commented: "This verse on here is my favourite verse  in the whole of the New Testament.
I even have the number 3.16 in my email address because it means so much to me.  It helps me to thank God every-day for the greatest gift he gave mankind at Christmas time."
Mr Chapman then asked Jessie to read out this verse to the whole of year 7.
"For God so loved the world that he gave the gift of his one and only Son,
that whoever believes in him, shall not perish but have eternal life"
St John`s Gospel 3.16
Mrs Hensey- Reynard thanked the visitors on behalf of year seven saying:
"We are now ready to study the Birth of Jesus in St Matthew`s and St Luke`s Gospel accounts in our RS/RAVE lessons so this will be a fantastic gift that the pupils can have their own copy to read not only in school but whenever they like. "