Welcome to the Year 5 Sir Thomas Boteler Church of England High School virtual Taster Day, with Information Evening.
We hope that you enjoy your virtual introduction to our school and we are sorry that you are not having your taster week this year or your Oscars night. Please use this page and the Year 6 page to learn about our school, our ethos and our High Expectations, High Aspirations, High Standards. Please join us on Thursday 16th July at 6pm for our live Zoom information evening. Please email
nhammam@boteler.org.uk
to book onto this event.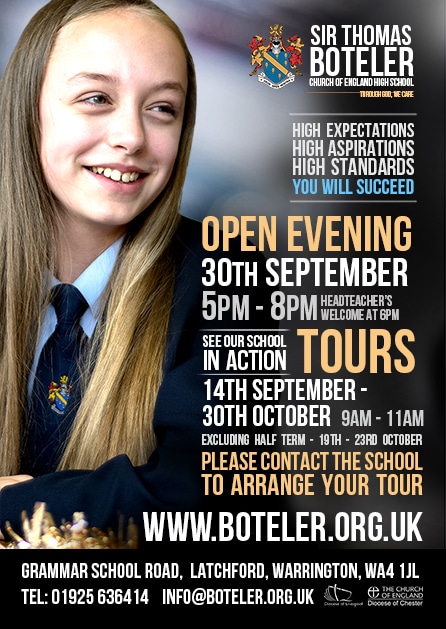 Booking a tour
We will be open every day from 9am – 11 am from September for socially distanced tours please email
transition@boteler.org.uk
or telephone the school on 01925 636414 to book your timeslot. We want you to have every opportunity to have a look around our school so you can make an informed choice about your child's future high school. We are hoping that our Open Evening will take place on Wednesday 30th September from 5pm – 8pm, with the Headteacher Address at 6pm.
For any questions, or to send completed Boteler Wider Curriculum work, please email: nhammam@boteler.org.uk