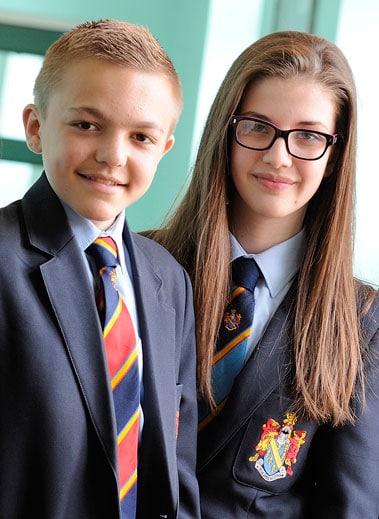 We encourage children to take pride in their appearance and all pupils must wear full school uniform.
If a domestic problem prevents your child from wearing an item of uniform on a particular day please send a note of explanation in your child's planner, if there is no explanation your child may be isolated.  If any family finds difficulty in covering the cost of uniform please speak in confidence to your child's Head of House.
Uniform is available from Warrington School Wear, 50-54 Buttermarket Street, Warrington, tel 01925 576868. House ties are available to buy from school reception. If you choose to buy your blazer from a different supplier school badges are available from reception.
Uniform List
Navy blue blazer with school badge
Navy blue 'V' neck pullover (optional)
House tie (available from Reception)
For girls – black or charcoal skirt or trousers of sensible style and length
Skirts should be just above or just below the knee
For boys – black or charcoal trousers (Jeans and fashion trousers are NOT acceptable)
Plain light blue shirt to be always be tucked in
Plain shoes of sensible style and dark colour (NOT trainers, boots or pumps)
Plain grey, white or black socks
Girls may wear black tights Jewellery must not be worn apart from one pair ofstud earrings and a watch
Physical Education Kit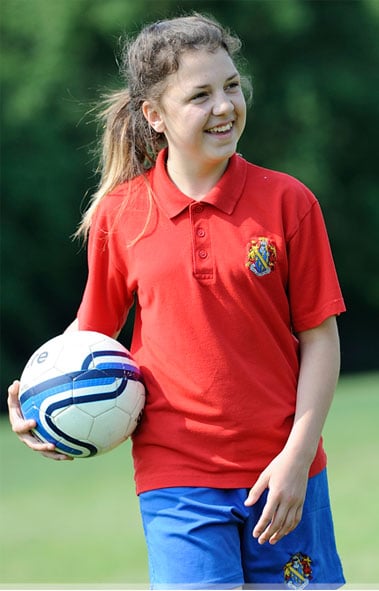 Girls
Red polo shirt
Royal blue shorts
Training shoes
Royal blue socks with red stripe
Football boots (if required)
Navy blue track suit pants and sweatshirt (no hood) for winter months
Boys
Red polo shirt
Royal blue and red rugby shirt
Royal blue shorts
Royal blue socks with red stripe
Training shoes Football boots
Navy blue track suit pants and sweatshirt (no hood) for winter months