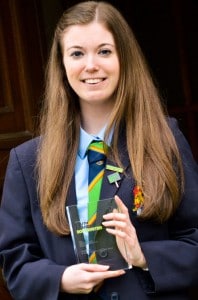 BEST IN THE BRITISH ISLES
Two of our very accomplished year 11 students, Lucy Meakin (Overall winner) and Lucy Ryan (Runner –up) wowed the Song-writing Judges with their "Protest Songs" – "Journey of Hope" and "Motionless" . They were invited to attend a prestigious Awards ceremony yesterday (30.4.2014) at the London Amnesty International Headquarters.
Beating off strong competition to come 1st and 2nd from over 7,000 entries was no mean feat. Wimbledon High School came in third with their song "Education is Empowerment".
Proud teacher, Mrs Hensey-Reynard said: "It was such a privilege to learn that our students had impressed the judges like Jerry Dammers who founded the group "The Specials" and, who had himself, written the very famous "Free Nelson Mandela" Song which played a huge part in getting Mandela eventually freed from prison."
Headteacher, Mr Sharples concluded: "I'm delighted that Amnesty International engages young people in this way. As you can see, Lucy Meakin and Lucy Ryan have expressed a passion for "Justice and Human Rights" which struck the right chord with some of my all time favourites such as Billy Bragg, Jerry Dammers and Esperanza Spalding"