Core PE is not formally assessed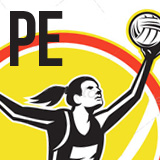 GCSE PE is assessed throughout the course
5 Ways to support your child
Ensure they have clean PE kit on the correct days (including socks, shorts, polo shirt, rugby shirt, appropriate footwear, including football boots)
GCSE PE students should be supported to complete and submit homework on time.
Encourage your child to join after school activities and practise outside of school.
Expect your child to demonstrate resilience when participating in physical activity.
Please communicate all injuries with your child's teacher, via a note in their planner.
Year 9 Overview
Pupils to participate in the following activities Netball, Football, Rugby, Trampolining, Fitness, Basketball, Volleyball, Badminton, Athletics, Rounders and cricket
Year 10 overview
As above in most cases, with a specialist group who can choose to participate in the Junior Sport leader award to gain a nationally recognised award
Year 11 overview
More  recreational to equip them with the skill for life long participation of physical activitiy, Badminton, Basketball, Dodgeball, Trampoliniing,, volleyball and Football
Examination Dates 
GCSE PE
Personal Exercise plan – at the end of Year 10
Analysis of performance January of Year 11
Practical performance moderation completed Spring term of year 11
Written paper – Summer term Year 11