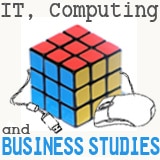 5 Ways to support your child
Allow them to download and install the free software that we use at school such as Scratch, Python, Notepad++, Bluefish, GIMP, Inkscape and Blender. LibreOffice is also free and good for working with Microsoft Office documents if you do not have MS Office software.
Ask them to demonstrate the skills they have learned, e.g. creating spreadsheet formulas.
When they have a problem solving homework and cannot get started, ask them to write down what they are thinking instead and try to explain what they do not understand.
Encourage them to find out how computers and other systems work.
Encourage them to find tutorials online and use them to improve their understanding.
Curriculum
Year 7 Curriculum Overview
In Year 7 pupils:
learn how to create formulas in spread sheets to produce simple financial models
arrange instructions in order to control outputs in simple systems
learn about data types and how to store and search for data in databases
learn about the different types of image file and how digital images are created
learn how to present work effectively
learn how to stay safe online
learn the basics of how computer systems work
Year 8 Curriculum Overview
In Year 8 pupils:
learn how to code web pages using HTML and CSS
learn how to process statistical data on spread sheets and present information using graphs
learn how to create a game using the application Scratch
learn how to create a simple program using the Python programming language
learn how to create animated graphics