Sir Thomas Boteler Church of England pupils "took a step" to mark National Holocaust Day on the theme of Journeys by creating a Signpost on which they could add their messages of remembrance on luggage labels.
As part of their Religious Studies lessons pupils have been involved in holding a memorial service in the grounds of the school on the theme of Journeys. Pupils were asked to write a message on a luggage label and hang it on the Signpost which the Design Technology Department created for the occasion. Pupils "took a step" to give thanks for all those children who came on a Journey of Hope/Freedom to British families during WW2.
As well as taking part in an out-door service, pupils also entered a poetry competition organised by Chester Cathedral. The winners of this were Lucy Ryan aged 16 and Emma Fellows aged 14.
Mrs Hensey, Head of RS commented: "This is the third memorial service we have held for our pupils to get involved in and they benefit from this experience by sharing what they have learned with their families and the wider community. This year we were also delighted to hear that Canon Jane Brooke had chosen two poems written by our pupils to form part of Chester Cathedral's service to commemorate this important event."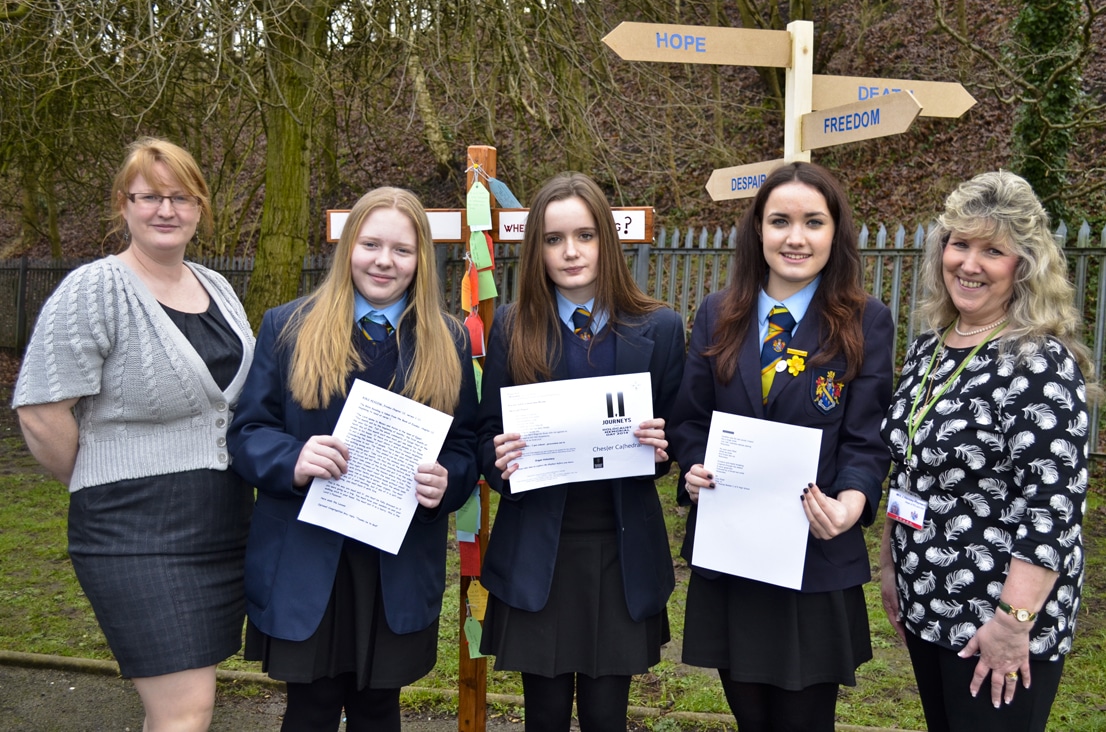 Lucy Ryan, aged 16 concluded, "I have gained a lot from being part of these memorial services and this year I was able to put this learning into a poem which has been chosen to go into a hand-made book which can be found in Chester Cathedral. My interest in Religious Studies is something I intend to pursue in Further Education because it covers such big human issues like this one and I feel knowing about such events will help me in any career I choose to pursue".
Image shows: Pictured left to right are Mrs Watson, teacher of RS; Abigail Titchard who delivered a Bible Reading in the Cathedral; Emma Fellows Year 9 winner; Lucy Ryan Year 11 winner and Mrs. Hensey-Reynard, Head of RS.