We are now at the halfway stage in the Warrington Schools U16 League Competition for 2013/14 and the Boteler team, who are the current champions in this age bracket, lead the competition with three wins out of three following the recent round of matches at the Ball Hall.
Seven schools are competing in this league, a vast improvement in participation by comparison with last season.  The matches are just 10 minutes in duration and those played between other schools have been exciting, in some cases finishing with very close score lines.
Our own team's first match was against Great Sankey High School, who like ourselves, have a number of players regularly competing outside school in Ball Hall leagues. We began this game quite poorly by our own standards, carelessly missing one or two scoring opportunities and regularly sending over-adventurous wayward passes down court before settling down to a more controlled pattern of play, which was then too much for Great Sankey to handle.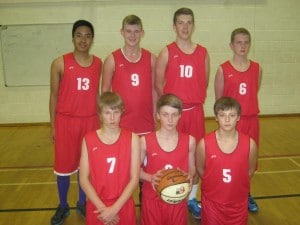 Sensing a superiority in mobility over the opposition, captain Jacob Lloyd called for a pressing defence strategy, which brought us increasing amounts of mid-court possession, easy to turn into points with slick passing and good layup techniques, which all our players possess. When Great Sankey did threaten our basket, it often led to fast break opportunities through good transitional play and the final score was 38-19.
In recent years we have had many close games with Culcheth High School with honours more or less even. Culcheth brought a relatively small and inexperienced team to play us and we expected to win comfortably. Our first five had opened up a lead of 20 points within five minutes, allowing me to give bench players Mathew
Lloyd and Renz Foxall extended court time. Even without the height advantage that Jacob Lloyd and Josh McLean give us, we almost doubled the lead in the second half of the match with Aaron Ashton and Liam Hickson leading the way in both offence and defence. The final score was Boteler 34 Culcheth 2. Every credit to Culcheth for their resilience and sportsmanship.
The only team which looked like they might compete with us was Lymm High School. Who had won their previous two matches. The Lymm players were well-organised and skilful. We saw this match as being the key to eventually winning the league this year and kept the first five on for the duration. Cameron Burrows put in the best performance in this match, winning turnovers, creating scoring opportunities for others and finishing moves with a high percentage success rate. Jacob Lloyd dominated in defensive rebounding and picked up several offensive rebounds from any outside shots by Josh McLean which failed to reach their targets. Josh proved to be our most prolific scorer with a total of 50 points from the three games, scored from all areas of the offensive court. He and Jacob predictably stood out as the best two players in the competition.
We play Penketh, Birchwood and St Greg's in the New Year, around England Schools fixtures against Crewe and Ellesmere Port. Provided our squad stays fit, further success beckons. Congratulations to the players for their excellent level of performance throughout 2013 and thanks to their parents and other family members whose continued support is vital to our success.
Mr H Chambers – Basketball Coach
Photo: Current Champions and 2013/14 League Leaders
Rear; Renz Foxall, Jacob Lloyd (Captain) Josh McLean(Vice-captain) Aaron Ashton
Front; Cameron Burrows, Liam Hickson, Mathew Lloyd