Child Protection
Parents should be aware that the school will take any reasonable action to secure the safety of its students. Where there is reason to be concerned that a child may be subject to ill-treatment, neglect or other forms of abuse, staff have no alternative but to follow Child Protection Procedures and inform Social Services of their concern. The Senior Designated Leaders are Mrs Scott-Herron and Mr J Leonard. The school's Safeguarding Officer is Mrs Enescott.
Parent's Protect is an information and resources website which aims to give adults the information, advice, support and facts, they need to help protect children.
SAFEGUARDING TEAM
Meet the Safeguarding Team at Sir Thomas Boteler Church of England High School:
Beverley Scott-Herron – Designated Safeguarding Lead
John Leonard – Designated Safeguarding Lead
Elaine Enescott – Safeguarding Officer
Alison Lee – Well-Being Worker
Andrea Savage, Linda Ashwin and Kerry Hayes in the Pastoral Team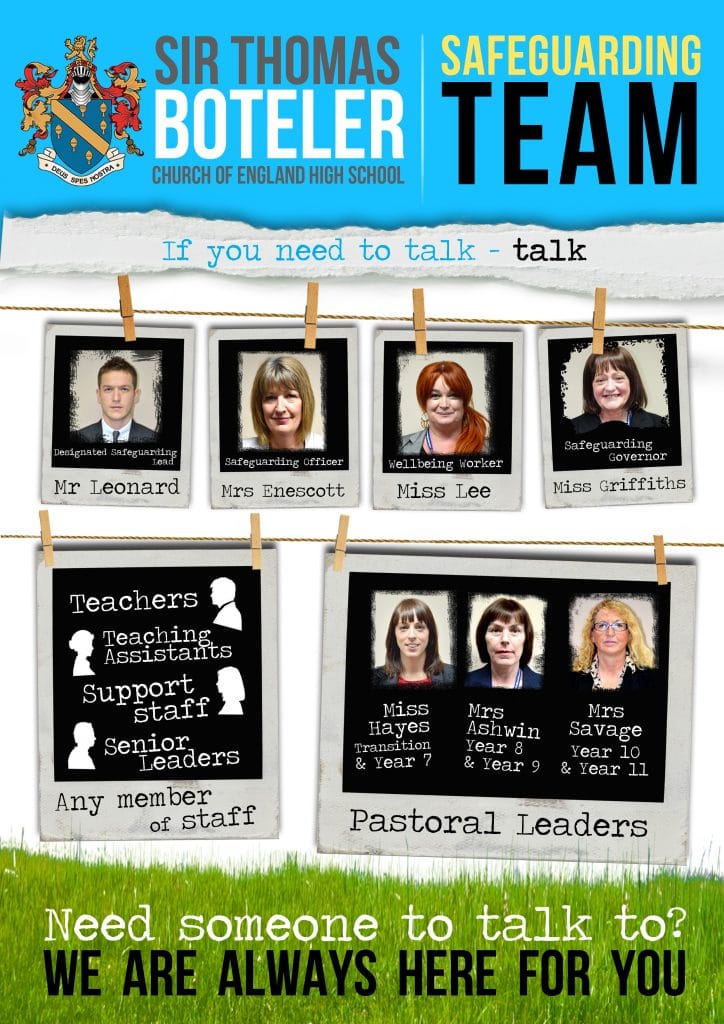 KEY FUNCTIONS OF THE SAFEGUARDING TEAM
Key Functions of the Safeguarding Team
Below is a list of the some of the tasks that the DSL will undertake:
Contribute to Combined Assessments, Early Help assessments, complete CSE screening tools.
Make contact with Children's Social Care/ Multi Agency Safeguarding Hub (MASH) when there is an identified child protection issue.
Support to students and their families, making referrals to appropriate statutory and non-statutory services for support.
Attend and deliver Safeguarding Training (whole school training)
Challenge practice and decisions in line with the LSCB Escalation Policy
Have a thorough understanding of the thresholds for support from Children's Social Care e.g. Children in Need of protection and children in need of care
Support each other (De Briefing opportunities and reflective learning opportunities)
Champion and know who the vulnerable students are. The Vulnerable students should be reviewed on a regular basis.
WHAT TO DO IF YOU HAVE A CONCERN
If you have a concern about your child, a relative or another pupil who attends this school please contact us on the following:
Bev Scott-Herron (Designated Safeguarding Lead), John Leonard (Designated Safeguarding lead) or Elaine Enescott (Safeguarding Officer) 01925 636414
Email: bscott-herron@boteler.org.uk, jleonard@boteler.org.uk or eenescott@boteler.org.uk
You can also speak to any other member of the safeguarding team and contact them on the school number. Please leave a message and we will get back to you at the earliest opportunity.
Click here to view our procedure to raising a concern.
Click here to view our concern form.
Click here to view a flowchart of the process we go through regarding concerns raised to us.