Click here to see the DofE Assembly 2016.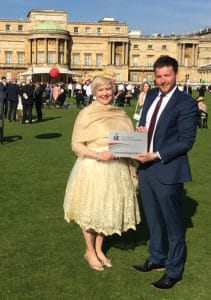 On the 16th of May, Sir Thomas Boteler Church of England High School's Headteacher Mrs Beverley Scott-Herron and Head of Geography Matthew Jagger travelled down to Buckingham Palace to celebrate their school's involvement with the Duke of Edinburgh award, and the Duke of Edinburgh Awards' 60th year anniversary.
It was an excellent day in which Mrs Scott-Herron and Mr Jagger were invited into the private gardens of Buckingham Palace and were lucky enough to meet a range of celebrities, including HRH Prince Edward, Natalie Coyle and Philip Schofield. This was the first time this event has taken place at the palace in 10 years.
They were presented with a plaque (that is now proudly hung in the Boteler entrance hall) and watched a number of young achievers receive their gold awards.
Mrs Scott-Herron says: "It was a real privilege to be invited to Buckingham Palace to represent the School. The Duke of Edinburgh Award scheme offers so many opportunities to young people and I am so pleased that we can offer the award as a school. It was inspirational to meet some of the Gold Award students from across the country and to know that this will be an outcome for some of our students in the future".