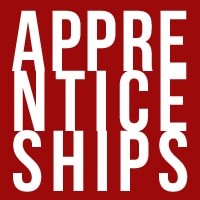 We aim to deliver a careers system that will help young people to choose the career which is right for them. We will provide a programme for all our young people of advice and guidance that is stable and delivered by individuals with the right skills and experiences. We will create opportunities for our young people that they have not experienced before and therefore developing their aspirations and horizons. Their learning will be connected to their future and provide them with the skills necessary to make a successful transition to the next stage of their life.
Click here for June 2020's parent and carers pack from Amazing Apprenticeships.
A message from Ms Armstrong, 19th June 2020:
Dear Parents/Carers of Year 10. Please see information regarding Virtual Sampling activities that have been organised by Riverside College and Cronton 6th form. Each year we take the Year 10 co-hort for a taster day at Cronton so they can sample different subjects and get a feel for the college, staff and courses that are on offer.
It has always been a brilliant day but due to Covid 19 we are unable to do it this year. However, the College are organising a week of activities so students don't miss out. Each year we have students who apply to Cronton due to their variety of courses.
Please go through the information in the letter and encourage students to register for the activities.
I hope you are all well, take care,
Ms A Armstrong
HOY 10 & 11
A message from Ms Armstrong, 18th May 2020:
Calling all Year 10 & 11 students, parents and carers.
The Warrington and Cheshire Pledge have arranged a Virtual Careers Festival. It starts on Tuesday at 11am and will cover all manner of careers and helpful activities to support career choices. They have created videos that cover a wide range of industry sectors including, Construction & Engineering, Health & Social Care, Creative & Media and Finance & Law. Students will be able to ask questions to people in those careers and many more. The Festival runs from Tuesday until Friday. On Thursday and Friday they are running – Your Next Step in Education activities and a Career Activity Suite, where students will have help with writing CV's, searching for jobs, applying and interview skills. Students MUST register to take part in these activities via the following link:
www.learnliveuk.com/paving-the-way-virtual-careers-festival
Parents/Carers and Teachers can also register to take part. I have already been on the website and can't stress enough how brilliant this is going to be and how much our students will learn from it. This information has also been sent out as a text and I will be emailing students and putting the link on Teams. Students can register immediately and check out which industries are available and what videos they would like to view. Many thanks for your continued support. Ms Armstrong HOY 10 and 11
A message from Ms Armstrong, 12th May 2020:
I hope that you checked out the latest Blog yesterday regarding the latest college information and how the colleges are working hard to create activities and virtual learning to prepare you for September. If you haven't checked out the Blog on YouTube then the information is here:
Cronton College
Pre-college on-line resources are now available. www.cronton.ac.uk/year-11-resoures They have sent letters out to students. If they are unable to have taster days in the summer term due to lockdown/mass gatherings they will create a virtual tour and videos. They are constantly updating their website and social media. Be pro-active and check them out.
WVR
They are currently creating a school leaver site which will contain bridging resources and advice. As soon as it is up and running they will send me a link which I will send out to you. Again, check their website and social media for updates.
Priestley College
Virtual Priestley will be up and running soon. Students who have applied for places will be able to sign up for it. You should have received an email regarding how to access this. You will be able to find out more about courses before you make your final decisions, in the summer. Virtual Priestley will include cross college material/videos, subject tasters. If you haven't yet had your Priestley interview don't worry, telephone interviews will commence the week beginning 18th May.
Contact me if you have any concerns, take care, missing you lots,
Ms Armstrong

Click here for Mrs Mawby's letter regarding The Pledge Partnership/Learn Live.
We are working closely with The Cheshire and Warrington Pledge Partnership to ensure that our students receive support from employers, universities and training providers. Click here for more information.
We are pleased to announce the schedule for the Speakers for Schools- Virtual Talks programme for the week commencing 27th April. The complete schedule is here. Students will be able to hear from today's leading figures, such as:
Thursday 30th April, 10am: Penguin Talks in Collaboration with SFS – How to boss your mood
Chloe Brotheridge (Clinical Hypnotherapist and author of The Anxiety Solution) and Sara Milne Rowe (Performance Coach, founder of Coaching Impact and author of The SHED Method)
Chloe and Sara will kick-off the Virtual Penguin Talks series by sharing their expertise and practical tips for managing anxiety and taking control of your mood during these uncertain times. Students will have the opportunity to ask questions and receive a free audiobook download of The Anxiety Solution and The SHED Method.
Click here for the letter regarding the START resource.
Independent Learning
Please follow this link to view a message from the National Apprenticeship Service, regarding apprenticeships for Year 11 students. http://www.boteler.org.uk/nas-message/
Click here to see Barclay's booklet on Problem Solving Life Skills
Click here for Home Learning activities from Career Pilot.
https://www.stem.org.uk/home-learning
The National Careers Service is here to help;
Year 11, 12 and 13 students who were due to take exams this year
parents/carers of students who are worried about their child's next steps
parents/carers who require support with their own career plans
Amazing Apprenticeships have pulled together some helpful articles, videos, activities and more, to help you prepare for the new week ahead. We know that planning your week and sticking to a routine can have a positive impact on your mental health – so we're here to help with some amazing ideas! Click here to view.
Open University – Nursing Associate Preparatory Learning Resources
The Open University are offering free online resources to help prepare anyone considering a career as a Nursing Associate, I have attached the information leaflet which focuses on preparing for higher education and good academic practice which could be a useful online resource for potential learners to undertake during this time. Click here for more information.
From Chester University:
There are a few new sessions online this week for your students to enjoy;
Introduction to Higher Education (Chester Team)
Mock Interviews (Chester Team)
Ramadan Wellbeing (Keele Team)
Thematic Analysis (Central Team)
There will be a short survey for students to complete at the end of the session.
https://higherhorizons.co.uk/resources/
Please click here for the 2019/20 Careers programme for young people and their parents.
Click here for our CEIAG assemblies and events timetable.
Labour Market Information – January-March 2020
Making Choices in Year 8 and 9
Support for Year 11 students applying to Priestley College
Priestley College have published FAQs on their website for all prospective students. These FAQs and plans will be updated and time stamped as more information becomes available. This may include any questions and answers relating to Ofquals updated guidance regarding grading. Click here to view.
Learn about your chosen pathway: average salaries, working hours and level of vacancies. Our partner college Priestley College uses a system calls Pathways to follow the live information. Click here to go to their website, follow the courses link to select your chosen area. The Pathways information is available for every subject.
Please click here for the Policy statement on provider access
We will use The eight Gatsby Charitable Foundation Benchmarks to support the delivery of our careers provision:
1 Sir Thomas Boteler Church of England High School will deliver a stable careers programme
2 Sir Thomas Boteler Church of England High School will provide learning from career and labour market information
3 Sir Thomas Boteler Church of England High School will address the needs of each student
4 Sir Thomas Boteler Church of England High School will link our curriculum learning to careers
5 Sir Thomas Boteler Church of England High School will provide encounters with employers and employees
6 Sir Thomas Boteler Church of England High School will provide experiences of workplaces, at least one a year.
7 Sir Thomas Boteler Church of England High School will deliver encounters with further and higher education
8 Sir Thomas Boteler Church of England High School will provide personal guidance.
Sir Thomas Boteler Church of England High School continually assesses and measures the impact of our Careers Programme on our students. Sessions/workshops are evaluated by visitors, teacher and students and adaptations are made if needed to. This will ensure a high quality CEIAG programme for all our students. Student voice is listened to on a regular basis to ensure students are inspired and prepared for their futures by our programme.
The CEIAG team:
A Mawby Assistant Headteacher – Strategic Careers Lead (amawby@boteler.org.uk)
Miss K Hayes – Year 7 Careers lead (khayes@boteler.org.uk)
Mrs L Butcher- Year 8 Careers lead (lbutcher@boteler.org.uk)
Mrs L Butcher – Year 9 Careers lead (lbutcher@boteler.org.uk)
Mrs Armstrong – Year 10 Careers lead (aarmstrong@boteler.org.uk)
Mrs A Armstrong – Year 11 Careers lead (aarmstrong@boteler.org.uk)
Our programme includes activities for all students from years 7 – 11 that are delivered through:
assemblies
enrichment activities
tutor time – incorporating Noble Donut
the personal, social, and health education programme (PSHE)
employer encounters
workplace experiences
Higher Horizons is a platform for all students to access if they have any questions about University or College. Staff from across all Universities will be on hand to answer. This is a really great source!
https://higherhorizons.co.uk/ask/
Career Connect
Career Connect is a charity with an outstanding reputation for providing high quality Careers, Information, Advice and Guidance for young people in schools and colleges.
Careers Information, Advice and Guidance, at every stage of a pupils time at Sir Thomas Boteler, is important to help them realise their potential and to make informed decisions about their futures. Young people need to understand where they could be going and how to get there.
Sir Thomas Boteler School will be working with Career Connect during this academic year to deliver and exciting and inspirational programme of career advice and guidance activities. The Careers Adviser who will be working with Sir Thomas Boteler is Kim Dickson.
Kim will work with pupils from each year group at different points over the academic year. However if your child is in Year 11 they will have the opportunity to have a one to one careers guidance interview in the coming weeks.
One to one careers guidance interviews will give your child the opportunity to discuss future career ideas, subject choice and suitable post 16 provision. Kim will also deliver group sessions with pupils that will introduce the world of work, jobs for the future and a range of other careers related topics. Kim will be available during Parents Evenings if you have any specific questions or wish to discuss post 16 options and career choices.
Kim is available for interviews every Tuesday in the CIEG room and during the lunch time she has a 'drop in clinic' if any pupils have any questions, they can also apply to college, apprenticeships or even if they wish to use the careers room to research their own ideas.
You can contact Kim using these details:
Tel: 0151 600 7700
M: 07790921262
Kim.dickson@careerconnect.org.uk
For general queries, email schoolsinfo@careerconnect.org.uk
Key stage 4 into 5 transition
We aim for our students to have had access to a successful careers guidance programme and this will be reflected in the numbers of students progressing to destinations such as apprenticeships, technical routes, sixth form colleges, further education colleges, universities or employment
Information relating to Key Stage 5 Education in Warrington:
Priestley College (part of TCAT).
Click here for the Priestley College prospectus, and click here for the application forms.
Please click here for the Priestley College presentation
Cronton 6th Form College and Riverside College
Warrington and Vale Royal College
Warrington & Vale Royal College is the largest learning provider in Warrington and offers a wide variety of vocational and apprenticeship courses to a diverse range of learners. In October 2019, Ofsted officially commended the organisation as an overall 'Good' college, praising its "very caring and highly inclusive learning environment."
The college is ranked within the top 10 of colleges nationally for pass rates – a position it has held for three consecutive years (Further Education and Skills Agency, March 2019). To date, the college has secured unprecedented improvement for its 16 – 18 year old students, with its student achievement data now well above the national average.
With a focus on getting students ready for the world of work, they have many opportunities available for students. Their fantastic links with employers across the region means that 100% of their students have access to amazing work placements.
Boasting industry-experienced tutors and first-rate facilities, students have access to an outstanding learning environment designed to give them the practical skills, knowledge and experience for career success.
2020/21 School Leaver Prospectus:
https://www.wvr.ac.uk/download-a-prospectus/school-leaver-prospectus/
Course search:
https://www.wvr.ac.uk/demographic/school-leaver/
Apprenticeships Vacancies:
https://www.wvr.ac.uk/courses-and-apprenticeships/apprenticeships/apprenticeship-vacancies/
Student Success Stories:
https://www.wvr.ac.uk/student-stories/
Staff:
Lauren Dower– Marketing & School Engagement Executive ldower@wvr.ac.uk
Erin Story – School Engagement Officer – estory@wvr.ac.uk
Christina Bickerstaffe – School Engagement Officer – cbickerstaffe@wvr.ac.uk
Careers Information
The links below provide information on a wide range of topics and will be useful in identifying options and support decision making.
Job Information
icould.com – Real-life career videos, advice and information to inspire your career.
National Careers Service The National Careers Service has a range of information on making choices, career planning, courses, apprenticeships and information on writing CVs and completing application forms. https://nationalcareersservice.direct.gov.uk/
CareersBox CareersBox offers an online library of careers films, news and information. https://www.careersbox.co.uk/
NHS Health Careers This website contains information on the massive range of job opportunities in the NHS. https://www.healthcareers.nhs.uk/
Colleges
General college information including the range and type of courses offered.
Priestley College
Warrington and Vale Royal College
Reaseheath College
Cronton Sixth Form College
Riverside College
http://www.riversidecollege.ac.uk/
Apprenticeships
National Apprenticeship Service The government's apprenticeship website has a range of information on becoming an apprentice and local and national apprenticeship vacancies. https://www.gov.uk/topic/further-education-skills/apprenticeships
University
UCAS The universities central admissions service has details of UK university courses, with information on the application process, finance & support.www.ucas.com
Unistats A website which compares different universities and courses.https://unistats.ac.uk/
Prospects Prospects has information on graduate jobs and careers. https://www.prospects.ac.uk/
The Russell Group The group represents the UK's 24 leading universities, the website is a good source of higher education careers information & advice, including 'informed choices' a downloadable guide to making post 16 choices.https://russellgroup.ac.uk/
Not Going to Uni This website highlights the variety of opportunities that exist outside of university. https://www.notgoingtouni.co.uk/
General Information
Buzz Test
Take the Buzz test and in less than 5 minutes discover what your strengths are and get an insight in to your personality. https://icould.com/buzz-quiz/
Target Careers Future Wise Explore options for careers, university or apprenticeships and get help applying successfully. https://targetcareers.co.uk/
National Citizen Service NCS is the country's fastest-growing youth movement, a rite of passage for all teenagers aged 15-17 to discover who they are and what they can do. It's your chance to explore, be inspired and find your passion.
A YOUTH PROGRAMME LIKE NO OTHER
We'll help you realise that big, exciting things can come from feeling a little bit overwhelmed. …No, seriously, it's all good. Remember, No. We. Can. Show yourself exactly what you're made of!
On NCS, you'll mix with a new crowd, and take on fresh challenges together. Before you know it, you'll be rooting for each other, as you all tackle your own little hurdles.
Along the way, you'll also get a taste for independence and pick up skills that'll help you smash your future goals.
And if that's not enough for you, you'll also be given a platform to have your voice heard and pursue a passion project.
The NCS experience might last just a few weeks, but the impact? That lasts a LOT longer.
Over 500,000 people have already done NCS – want to join them?
Click here to read what our former student Molly says about NCS.
Careers Writers Association
Information from experts on a range of careers topics.
http://www.parentalguidance.org.uk/
Measuring the impact of our careers programme
We complete the (CEC) Careers and Enterprise Company's Compass benchmarking tool which evaluates careers provision against the 8 Gatsby benchmarks.
At the end of each academic year the findings from Student and parental surveys are used to measure the impact and inform planning for the following academic year
Feedback is gathered form external providers and students following careers and enterprise events that take place throughout the academic year. Examples of this being the annual careers fair, Mock employment interviews, enterprise and activity days and 1 to 1 guidance interview.
Destination data is used to inform future planning and to establish whether careers provision is offering the right advice and guidance and to ascertain whether students are making the right choices when moving into education, employment or training
NEET Prevention and Destination Data
Data is collected on the intended destinations of Year 11 students. These are all reported to Warrington Borough Council. Students at risk of becoming NEET are identified very early on, using the RONI report, and these students are given priority appointments with our careers adviser and, where necessary additional interventions, such as CareerConnect's programs are implemented.